Justifying the choice
The US Senate is one of two houses of Congress responsible for the legislative representation of all state subjects and hinders the progressive but sometimes frivolous ideas of the House of Representatives. In general, the atmosphere in each senator's convocation is moderately democratic, with an emphasis on regional representation. The culture of responsibility, rationality, and discretion is the heart of the choice to run for a US senator. However, it is only one of the reasons that contributed to the choice.
US senators are elected for six years, which is three times longer than that of the Lower House of Congress. In addition, the requirements for a senator are higher — a candidate must have at least nine years of American citizenship and be over 30. This factor justifies the solidity of senators compared to other members of Congress. Finally, the ability to directly influence lawmaking in the home country and pass quality bills with rejecting those that inhibit development is a fundamental factor in the choice of the US Senate.
Requirements
The US Senate consists of hundreds of congress members, two from each state of America, each of whom has passed a rigorous and democratic selection. Since 1913, when the 17th amendment to the Constitution was passed, senators have been elected by public vote. Section 3 of Article I of the basic law states that a US citizen in their thirties, who has a nine-year history of American citizenship and is a permanent resident of the state they represent, can be elected a senator.
Political party
It is an excellent fact to have a multiparty political force in the US, as it means that almost any view or idea will be reflected in the mandates. Nevertheless, among a wide range of parties, I would choose the Democratic. Looking at the American community, I clearly understand that the main problems facing today are not so much support for individualism and the separation of state structures, as real social and economic assistance to vulnerable populations. I share the Democrats' ideology and argue that the state should actively intervene in the life of society to guarantee the protection and care of its citizens.
Political position
Thoughts about what ideas I will promote when I start working as a Senator come from personal experience. Undoubtedly, like any person who leads an active social life, I have encountered examples of injustice, bias, and racism. At such moments, I have always wondered if this is the country where I want to live my whole life.
The senator's chair gives me responsibility for tens and hundreds of thousands of Americans, so I will present those views that resonate with me and with vulnerable categories. First of all, it concerns the availability of quality and reliable medicine. As a member of the Democratic Party, I will achieve universality and accessibility of medical services because Medicaid and Medicare programs demonstrate shortcomings. Practice shows that the American health care system is based on policy discrimination, expressed in terms of racism and economic segregation. The black population has significant problems in obtaining quality medicine (Robinson). I intend to advance the correction of this injustice because America is a multi-country country with a place for all those who work responsibly for the state.
The second issue that needs to be discussed regarding medicine is education and reforming the medical system. The modern world is dictating new rules – instead of the subjective experience of a doctor, unscientific opinions, and medicines with no proven action, an academic approach to therapy and patient care is needed. In the Senate, I plan to actively discuss the policy of broad public awareness of the importance of evidence-based medicine, vaccination, and care for health. There is a misperception around the world that American citizens are obese and overweight, but my policy is to prove the opposite.
Finally, the third topic regarding presence in the US Senate is further support for the LGBT community. In 2015, the Supreme Court legalized same-sex marriage among Americans, which was quite a progressive step. However, it was immediately followed by discrimination against overt gays, dismissal from employment, and aggression by heterosexuals (Stack). I plan to lobby for the interests of LGBT people because, as with racism, I am convinced that every American, regardless of color or sexual orientation, should have a full range of civil rights and freedoms. However, it is not enough to declare the recognition of LGBT rights at a US Senate meeting because regular and consistent work is needed to promote a new culture. More than 67 percent of Americans approve of homosexual relations, which means the idea should become a national one (Madhani). I want to promote a bill that would make open cases of discrimination against LGBT people, hatred, and aggression in real life and on the Internet, subject to sanctions.
Communication with voters
It must be recognized that modern human devotes most of our time to the Internet: each of us actively uses social networks, news feeds, and video hosting. The best option for the campaign would be to communicate openly with the electorate online. This approach could solve two problems at once – accessibility for all Americans and the attraction of a younger audience. As a candidate, I would publish videos on YouTube dedicated to discussing pressing issues and proposing my ideas and solutions (Figure 1). However, the US demographics include more than just Web users, so I would also distribute my ideas in the form of promotional posters to an older audience (Figure 2). It seems that this dualistic approach allows touching almost all categories of Americans.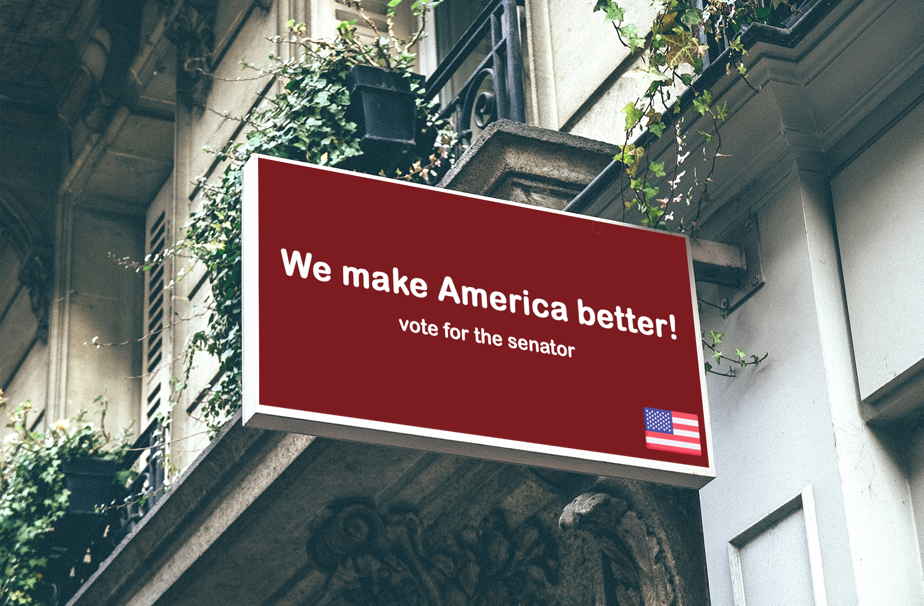 Stakeholders
Obviously, I am interested in reaching out to as many Americans as possible, and my campaign is primarily focused on the voters. However, as a Senator, I will be actively engaged with my colleagues, so in my campaign practice, I am going to reach out to them as well, criticizing or encouraging their actions. In addition, observers and the Electoral Commission are an integral part of the voting, and I plan to reach out to them to encourage transparency in their work and to thank them for the work they do. In addition, stakeholders may include entrepreneurs, political technologists, opponents, and the President of the United States.
First draft law
Based on the above, I would say with certainty that I would start my legislative activity by approving the bill on affordable medicine. The correction would be possible by reviewing the economic policy of health care, creating a transparent pricing system, and eliminating discriminatory practices. Once the bill became law, it would mean a qualitative change in American life for the better.
Conclusion
In conclusion, I would like to reiterate that I am striving to become a US Congress Senator to represent Americans' interests. In my election practice, I would seek to influence all categories of Americans, minorities, and objects of discrimination. My policy would be to support vulnerable groups and the LGBT community because, as a member of the Democratic Party, I would primarily seek to ensure equal rights and freedoms for all Americans.
References
Madhani, Aamer. "Poll: Approval of Same-Sex Marriage in the U.S. Reaches New High." USA TODAY, 2018, Web.
Robinson, Rashad. "The Racism That's Pervaded the US Health System for Years is Even Deadlier Now." The Guardian, 2020, Web.
Stack, Liam. "The Challenges That Remain for L.G.B.T. People After Marriage Ruling." The New York Times, 2016, Web.